2016 Distinguished Achievement Awards Dinner pays tribute to outstanding honorees, raises over $90,000 for scholarships
November 4, 2016 - Tamara Williams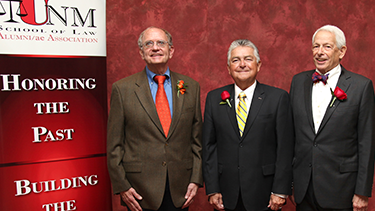 Hundreds of attorneys, judges, public servants and officials joined law school faculty and students at the Distinguished Achievement Awards Dinner on Friday, October 21 at the UNM Student Union Building (SUB).
More than 425 tickets were sold and over $90,000 was raised to support the full-tuition merit-based scholarships while celebrating the extraordinary accomplishments and dedicated service of three notable honorees.
This year's event honored New Mexico's longest serving judge, the Honorable Lorenzo F. Garcia ('73); former law school professor (1971 – 1978) and attorney Joseph Goldberg; and Tim Sheehan , who worked with his father to bring Sheehan & Sheehan, P.A. to prominence.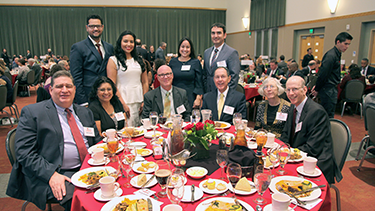 Alumni Board Member Sam Adams (['03) coordinated the three tribute videos, which included commentary, anecdotes and impressions expressed by people who spoke of the qualities, achievements and service of each of the honorees.
Getting to this year's financial goal involved steady progress and a last-minute victory. Hard work on behalf of the Committee Chair Steve Scholl ('89) and others—plus a last-minute contribution by very generous anonymous donor—brought the amount to over $90,000, significantly more than last year's total.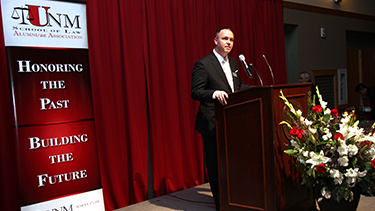 The awards program began with a warm welcome by UNM Law School Deans Alfred Mathewson and Sergio Pareja and Law Alumni Board President Sean Garrett ('01).
Second year law student and Alumni Association full tuition merit scholarship recipient Noell Sauer served as a lively and engaging emcee.
Deepest thanks go to top sponsors  Freedman Boyd Hollander Goldberg Urias & Ward, Keleher & McLeod; Modrall Sperling and Dixon, Scholl & Carrillo, Martinez Hart Thompson & Sanchez and Sheehan & Sheehan.
The UNM Law School is very grateful to Howard and Judy Mock, Steve & Chris Scholl, Parnall Law, Chapman and Charlebois, Beth and Dave Davenport, Ruth and Paul Kovnat, Paula Tackett and Anne and Jeff Bingaman-in honor of Joseph Goldberg, Adams+Crow, Danny Jarrett and all of our sponsors who made this event a night to remember.
Photos by Jodi Newton, Creative Images Photography