National Animal Legal Defense Fund highlights UNM student chapter
March 24, 2017 - Tamara Williams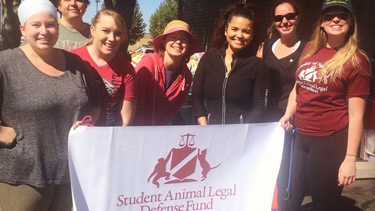 The UNM Law School's Student Chapter of the Animal Legal Defense Fund (SALDF) was highlighted in the national organization's most recent newsletter, "Winning the Case Against Cruelty."
The mission of the UNM student group is to provide a forum for education, advocacy and scholarship aimed at protecting the lives and advancing the interests of animals through the legal system and to raise the profile of the field of animal law.
The chapter demonstrated commitment to their mission by hosting a series of speakers, volunteering and fundraising.
Following is an excerpt from the UNM Law School chapter spotlight:
The University of New Mexico School of Law Student Animal Legal Defense Fund (UNM SALDF) chapter has been working to introduce animal law to the school's law students, professors and surrounding community, many of whom are interested in bringing the discussion into the classroom. The chapter has already seen interest spike in students who love and want to protect animals and are just now being introduced to animal law.
During the 2016-17 school year, the chapter hosted a presentation by The Animal Legal Defense Fund's Senior Pro Bono Manager Tom Linney, a panel on Careers in Animal Law, and collaborated with the law school's Environmental Law Society on a presentation on wildlife trafficking titled, "Blood Ivory: Wildlife Trafficking in the United States."
Members have also been active in their community through their volunteer work and fundraising.
ALDF reports that, "Over the coming years, UNM SALDF hopes to continue its speaker series, volunteer work, and fundraising to bring awareness of animal law to their legal community in a fun, accessible, intersectional way.  They are grateful to the Animal Legal Defense Fund for all its encouragement and support!"