New Mexico Attorney General Hector Balderas to give Commencement Address at UNM Law School
April 28, 2017 - Tamara Williams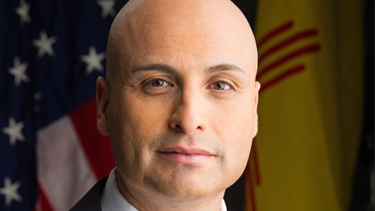 New Mexico Attorney General Hector Balderas (Class of 2001) will be the featured speaker at the UNM School of Law Commencement on May 13, 2017. The ceremony will be held from 1:00 – 4:30 pm on the back patio of the Law School.
"We are particularly pleased to announce that a committee of students who are members of the Class of 2017 chose Attorney General Hector Balderas to give their commencement address, and that Mr. Balderas accepted the invitation," said Co-Dean Alfred Mathewson.
"Mr. Balderas has had an illustrious career of public service to the people of New Mexico," said Co-Dean Sergio Pareja. "His example of public service is impressive, and we are pleased that he will return to our law school on this important occasion."
Balderas has served as a Representative in the New Mexico State Legislature, as New Mexico's State Auditor, as an Assistant District Attorney in Bernalillo County, and as the Attorney General for the State of New Mexico since 2014. 
He became the youngest Hispanic statewide elected official in the country in 2006, when, at the age of 33, he was elected state auditor of New Mexico. In that position, he provided regulatory oversight to more than $60 billion in governmental assets and to 603 government entities. He was re-elected in 2010 with overwhelming support from Democrats, Republicans and Independents.
Balderas was awarded the New Frontier Award by the Harvard Institute of Politics and the John F. Kennedy Library Foundation in 2010. The annual award is given to Americans whose contributions in elective office or community service demonstrate the impact and value of public service in the spirit of John F. Kennedy.
When he was elected the 31st Attorney General for New Mexico on November 4, 2014, Balderas said, "From day one, I will fulfill those promises as Attorney General, and I am committed to proactively engaging New Mexico's communities as we work to protect our children and families."