UNM School of Law Alumna Seeks Big Impact on New Mexico Politics
February 13, 2018 - Derek R. Sanchez (Class of '19)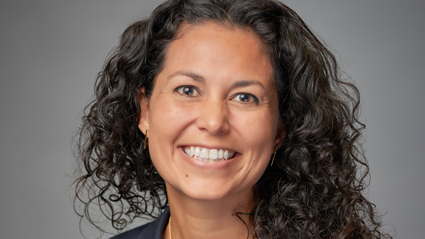 LAS CRUCES, N.M.  - Xochitl Torres Small (Class of '15) joins a number of UNM School of Law graduates seeking to impact New Mexico politics.  Torres Small released an official statement just two weeks into the New Year declaring her candidacy for the 2nd Congressional District of New Mexico seat.
Torres Small, a Las Cruces native, is an attorney with Kemp Smith Law.  She specializes in environmental law, health care, and litigation.  She began her journey at UNM School of Law hoping to make a positive impact in water and natural resources law after working for Senator Udall.  However, she eventually felt inspired to take her career in another direction.
Torres Small expressed her reasons for seeking out a political career, "I didn't feel like I had a voice, and I didn't feel like my community had a voice.  I love working as an attorney, and I'm grateful to Kemp Smith LLP for the opportunity to work on water and natural resources, but I felt called to do something more for the community that has given me so much.  I'd love to be the voice for all of us here in southern New Mexico."
Torres Small is among several UNM School of Law graduates using a quality law degree for political prowess.  Damian Lara, Damon Martinez, and Debra Haaland are also alums who recently announced candidacy for various political positions. 
"Graduates of the law school who run for political positions can have a positive impact on the school, our students and faculty, and our whole law school community by demonstrating the values and skills they may have developed while they were here preparing to practice and serve the needs of the community, and the state. We are always proud to see our graduates choosing to enter into service and leadership positions," Law school Co-Dean Sergio Pareja stated.
Although Torres Small attributes much of her success to the value of hard work, grit, and determination, she does offer some advice to UNM law students aspiring to make a big difference in their community.
"UNMSOL [UNM School of Law] reinforced for me the value of a community--where everyone is invested in each other's success and we all grow more as a result. I'm honored to be a UNMSOL alum and grateful for all it's given me.  I've learned not to let my dreams intimidate me, but to remember that being kind is more important than anything else I'll ever do."
This is the determination and attitude that seems to fall comfortably within University of New Mexico School of Law's theme of small school, big value, real New Mexican perks.  These values and perks are proven to go beyond a law school education to positively impact the entire New Mexico community.