NM's Law School Serving NM's People: Free Assistance with Lease Agreements
July 26, 2019 - Sal Guardiola II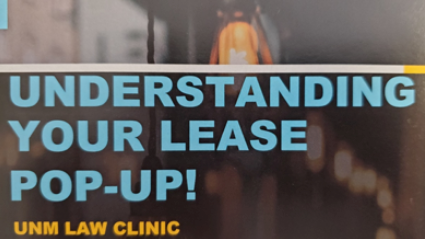 Do you have questions about your lease?  This Saturday, July 27, 2019, you can get answers. 
Students from the UNM Law Clinic will be available to look at leases and provide quick advice without legal representation at two locations (note the different time frames):
UNM School of Law
1117 Stanford Dr NE
Albuquerque, NM 87106
10:30am-12:30am
Chainbreaker Collective
1515 5th St
Santa Fe, NM 87505
3:00pm-5:00pm
Call the UNM Law Clinic at (505) 277-5265 for more information about this event.  Like our page on Facebook to stay connected with New Mexico's Law School.