Record-high 14 students graduate with NREL Certificate
May 29, 2020 - Reed Benson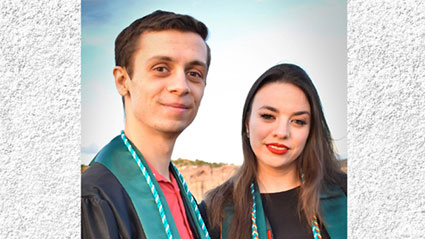 UNM School of Law awarded fourteen graduating students its Natural Resources and Environmental Law certificate in 2020, its largest class of certificate awardees to date. Law students can earn the specialized certificate with their J.D. by earning 21 credits in qualifying courses and completing writing and experiential learning components.
"It's great that so many UNM students are interested in natural resources and environmental law, and our NREL clinic has drawn more students to earn the certificate," said NREL Program Director Reed Benson. "The Class of 2020 had an exceptional group of students in our field."
2020 graduates earning the NREL certificate included Joshua Baca, Amanda Carmody, Amy Childress, Kristen Edwards, Victor Hall, Tara Hunter, Morgan Johnson, Ariel MacMillan-Sanchez, Melanie McNett, Julia Shaver, Christian Smith, Richard Spradlin, Cori Strife, and Mara Yarbrough.
In addition, four students graduated with the Master of Studies in Law (MSL) degree with the Natural Resources and Environmental Law Concentration, awarded to students who complete 15 credits of NREL coursework (or half of the 30 credits needed for the MSL).  The four students are Joaquin Baca, Francisco Balderrama, and Briony Jones.  All four are part of UNM's original group of MSL students that began their studies in 2017, and they are the first to earn the NREL credential along with the MSL.