Professor Emeritus Peter Winograd Named to ABA's Board of Governors
August 1, 2010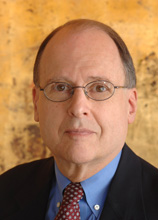 Professor Emeritus Peter Winograd has been appointed to the Board of Governors of the American Bar Association, the national voice of the legal profession. On the board, he will help oversee administration and management of the ABA.
He served as associate dean at the University of New Mexico School of Law for 28 years before retiring in 2004, and throughout his career has been actively involved in the national legal community.
In the ABA, his contributions have been numerous: he was a member of the governing council of the legal education section for nine years. He was a member of the section's governance and finance committees and chair of the section's Kutak Award Selection Committee, which chooses each year's recipient of the section's award that recognizes outstanding contributions to legal education, the practicing bar and the judiciary across the United States. In 1999, he received the Kutak Award.
He chaired the section's Government Relations and Student Financial Aid Committee, which coordinated association efforts to pass federal loan forgiveness legislation for graduates of higher education programs who work in public service, and the Special Committee on Transparency in the Accreditation Process, which produced a major report on the need to make more information publicly available about how the section approves law schools.
He has chaired many site evaluation teams to review and monitor the compliance of law schools with ABA Standards for Approval of Law Schools. Also, he has chaired and served on section committees to analyze and improve components of the law school accreditation process. In addition to serving on other section committees, he has spoken on such issues as diversity in law schools and financial aid for law students at workshops for deans around the country.
Winograd also has been active with the Association of American Law Schools and the Law School Admission Council, of which he is a past president. In those two organizations, he has focused his energies on such issues as student financial aid, student services, advancing professional opportunities for women legal educators and teachers in clinical legal programs, minority opportunities and diversity in legal education.
In part because of his record of service with accreditation of law schools, Winograd was appointed as a public member of the Liaison Committee on Medical Education, the agency recognized by the U.S. Department of Education to accredit medical degree programs in the United States.
He begins his three-year term immediately on the Board of Governors.