Professor Antoinette Sedillo Lopez Appointed as Executive Director of Enlace Comunitario
December 16, 2014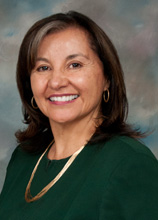 Leaves the University of New Mexico School of Law to Take New Position on February 1st
Antoinette Sedillo Lopez, Dickason Professor at the UNM School of Law, has been appointed to Executive Director of Enlace Comunitario. She brings significant skills in strategic planning, program management, public policy and donor cultivation to the organization. Sedillo Lopez will leave the Law School and take her new position on February 1st.
A New Mexico native, Sedillo Lopez joined the UNM Law faculty in 1986 after clerking for the District of Columbia Circuit Court and working in private practice. She served as the Director of the Law School's nationally recognized clinic program and oversaw the Summer Law Institute in Guanajuato, Mexico. An accomplished author and legal practitioner, Sedillo Lopez has received numerous awards in recognition of her work on social justice and civil rights issues.
"Professor Sedillo Lopez has always been a key figure in building our law school community. She had a dramatic impact on our law school and we will miss her dearly," says Law School Dean David J. Herring. "Her new position will allow her to make a significant contribution to the broader community. I know that she is very excited by this opportunity and that she will have a great effect in her new role; I wish her all the best." Sedillo Lopez will continue working on the book, Building on Best Practices for Legal Education and will transition her role as director of the Guanajuato Summer Law Program to new leaders of the program.
"I will always be grateful to the law school, to my colleagues, both on faculty and on staff, and to my students for the opportunities, rewards, and experiences I have had over the years," says Sedillo Lopez. "The law school is a very special place and I absolutely treasure my time here. While I will miss the day to day interactions with members of this community, I expect to keep a strong connection to the law school."