August 19 is World Humanitarian Day
August 19, 2015 - Tamara Williams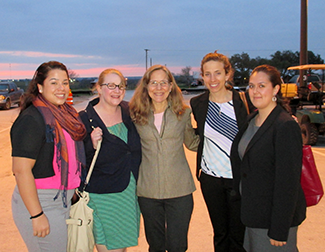 Professor Jenny Moore has been working on refugee issues since she was a student in Amherst College.
Last spring, she and four students in her Human Rights Practicum/Family Detention Project had hands-on experience in asylum advocacy over spring break. Read that story here.
Today she reminds us that August 19 is World Humanitarian Day.
She wrote a blog post in honor of the Central American refugee families in immigration detention.
The blog is on OUPblog, the Oxford University Press's Academic Insights for the Thinking World.
Here's the first paragraph:
"August 19th is World Humanitarian Day, declared by the UN General Assembly in 2008, out of a growing concern for the safety and security of humanitarian workers who are increasingly killed and wounded in direct military attacks or infected by disease when helping to combat global health pandemics."
Read the rest of it here.