Natural Resources Journal honors National Park Service's 100th anniversary
March 11, 2016 - Audrey Jaramillo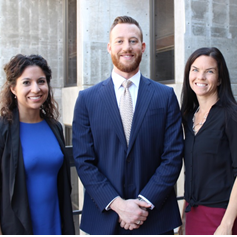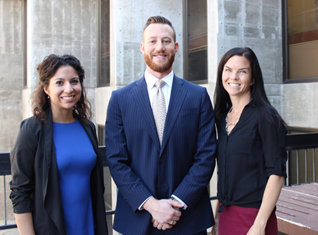 This year's NRJ editorial board includes (l to r ) co Editors-In-Chief Natalie Zerwekh and Lance Hough with Managing Editor Robin James.
On August 25, 2016, the National Park Service turns 100, and The Natural Resources Journal (NRJ) is celebrating the anniversary with a special issue.
"The National Park Service plays a tremendous role in preserving our country for future generations. It has been an honor to publish this special issue, not only because of this topic, but also because of the opportunity to work with these great authors," says Co Editor-In-Chief Lance Hough ('16).
The issue is made up of seven full-length articles, including articles by Professor Jeanette Wolfley and NRJ member Alan Barton ('16). The issue also includes a foreword by Senator Tom Udall and book reviews by UNM law students Julie Maes ('17), Richard Moore ('17), Mark Peralta-Silva ('17), and Rachel Woods ('16).
"The National Park Service is a beloved institution, but not without challenges in its management and philosophy," says Co Editor-In-Chief Natalie Zerwekh ('16). "As an interdisciplinary journal with a long history of exploring topics from multiple angles, the Natural Resources Journal is well situated to examine the National Park Service's past and present."
Managing Editor Robin James ('16) agrees, adding she hopes that the issue is interesting to people of many different backgrounds. "We are very grateful to have had the unique opportunity to publish an issue on the National Park Service right at the 100th anniversary. We also need to say a huge thank you to the rest of our board and staff."