UNM School of Law announces honorees for Distinguished Achievement Awards and new Alumni Promise Award
June 1, 2017 - Tamara Williams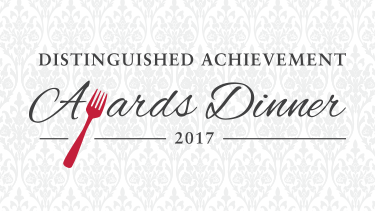 The UNM School of Law Alumni/ae Association will honor four members of the legal community at its Distinguished Achievement Awards Dinner on Friday, October 20, in the UNM Student Union Building ballrooms. The dinner, attended by approximately 450 guests or more each year, helps fund the Law Alumni/ae Association's three full-tuition merit scholarships at the Law School through its proceeds.
Established in 1993, The Distinguished Achievement Award honors people who have served the legal community in a significant way, celebrates notable accomplishments and dedicated service by lawyers and others in the legal community to the UNM School of Law, the New Mexico legal community and the greater community inside and outside of New Mexico.  Since its start, 72 honorees and more than 7,000 attendees and hundreds of sponsors have participated in the event. The dinner has raised over $500,000 benefiting the law school and law students.
Professor Barbara E. Bergman, Director of Advocacy, University of Arizona James E. Rogers College of Law

Professor Barbara Bergman brought years of experience as a criminal defense lawyer with the Public Defender Service in Washington, D.C. when she joined the UNM law faculty in 1987. Bergman taught at UNM until 2015, consistently bringing out the best in her students by her unparalleled industriousness and mentorship. While serving as Associate Dean for Academic Affairs, and as Interim Dean, Bergman continued to teach and lead numerous academic programs, many of which she started, strengthening the academic program and ensuring truly practice-ready graduates. Her leadership locally and nationwide benefited hundreds of law graduates, and has been critical to the success of the UNM Law School.
The Honorable Michael D. Bustamante, UNM School of Law Class of 1974

Judge Bustamante served on the New Mexico Court of Appeals from 1994 until his retirement in 2016. He is known for his tireless work ethic and thorough preparation, and his body of work will leave a lasting impression on the state of New Mexico. Bustamante has shown an unwavering support of UNM Law School students, serving as an adjunct professor for years, coaching and assisting with countless Moot Court teams, and hiring UNM Law graduates as his clerks. He also spearheaded the idea and oversaw the construction of the Pamela B. Minzner Law Center, and as a result, UNM is the only law school in the country with a Court of Appeals on its campus.
James W. Ellis, University Distinguished Professor of Law

Since joining the UNM law faculty in 1976, Professor Jim Ellis has worked on behalf of people with mental disabilities in the civil and criminal justice system. His work has given generations of students the opportunity to participate in significant and ground-breaking changes in the law at the highest level of advocacy. Ellis has filed over 20 briefs, each involving our UNM students and faculty, in constitutional cases before the Supreme Court of the United States. In 2002, he argued successfully before the U.S. Supreme Court in Atkins v. Virginia. The Court has referenced his briefs and scholarship in several landmark decisions, most recently Hall v. Florida in 2014 and Moore v. Texas in 2017.
The Alumni Promise Award is new this year and honors a recent UNM Law School graduate who has contributed innovative or substantial service to the Law School, its students, or its community.
Shammara H. Henderson, Assistant U.S. Attorney, U.S. Department of Justice, UNM School of Law Class of 2007

Shammara Henderson clerked for Justice Charles W. Daniels at the New Mexico Supreme Court. Later, she joined the U.S. Attorney's Office were she focused on prosecuting drug trafficking organizations, civil rights, and child pornography cases. She is now practicing in the Civil Division.
Helping students obtain practical experience has been Henderson's passion, and since graduating she has coordinated numerous externships, clerkships, presentations, and training and coaching programs with the law school's Office of Student and Career Services.
Henderson's many contributions to the community include serving as the Region X Director, National Bar Association; Vice President, New Mexico Black Lawyers Association; and as a member and Vice President of the UNM School of Law Alumni/ae Association Board.