Medical Accreditation Authority Honors Professor Winograd
December 7, 2012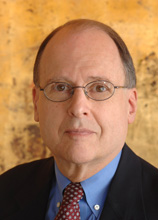 Emeritus Professor Peter Winograd was the recipient of the inaugural Distinguished Service Award presented by the Liaison Committee on Medical Education (LCME) at an early November ceremony in San Francisco.
In honoring Winograd, the committee wrote, "Peter…will forever serve as a paragon of public service to the LCME. Peter has served as a public member on the LCME since 2007. During this time, his valuable insight, impeccable preparation and careful consideration have served as an inspiration to his fellow LCME members and as the catalyst for this annual award."
The LCME was formed in 1942 and is the nationally recognized accrediting authority for medical education programs leading to the M.D. degree in the United States and Canada. The LCME is sponsored by the Association of American Medical Colleges and the American Medical Association.